BlogIt: Premium WordPress App for iOS (Push, iPad) (Full Applications)
Overview
BlogIt is a Premium WordPress application for iOS. It is beautiful, feature-packed and runs on both iPhones and iPads.
This is the perfect application for any individual or company looking to impress their users or readers.
Best of all, configuring BlogIt takes LESS than 2 minutes!
Universal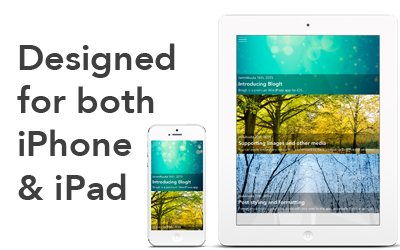 Clean Code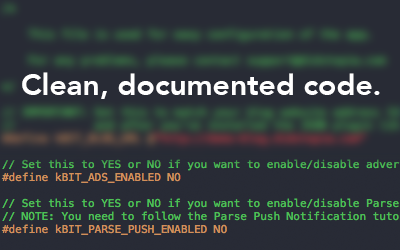 Push Notifications
With Push Notifications (and the help of Parse), you can easily send up to a MILLION Push Notifications to your users, and all without having to code anything.
Features
Supports iOS 7 and upwards (iPhone 4S and better)
Universal, meaning it works beautifully on iPhones, iPods and iPads
Made entirely with Auto Layout & Size Classes
Push Notifications (optional, powered by Parse)
Commented, in-depth instructions for setup and code
Advertisement support (iAd)
Documentation
Documentation is provided with the purchase, but an up-to-date version is always available online here.
Update Notes
Version 1.0.0 (January 19th, 2015)
Facebook comments
Website comments